MARINE ENGINE INTEGRATION
VOLVO PENTA® MARINE ENGINES
Volvo Penta, in conjunction with Garmin, has created Volvo Glass Cockpit, a sophisticated multidisplay system featuring networked components optimised for boats using Volvo Penta propulsion systems. Integrated with the Volvo Penta Electronic Vessel Control (EVC) platform, this Garmin based display system makes engine data easier to access, monitor and interpret.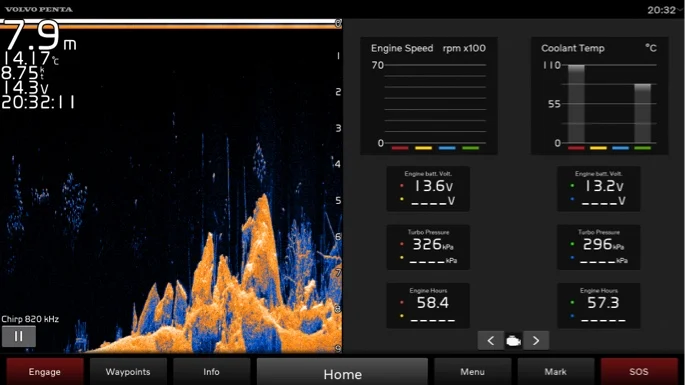 ALL-GLASS COCKPIT SOLUTION
The versatile Volvo Penta glass cockpit system, built around Garmin digital chartplotter displays1, incorporates an intuitive user interface and advanced EVC system control. Available with displays up to 24", this system provides a full overview of navigation and engine data for efficient, at-a-glance performance monitoring at the helm.
1NOTE: Not all chartplotters will have all display options. Consult the Owner's Manual of your device for more information on setting up and configuring the gauges.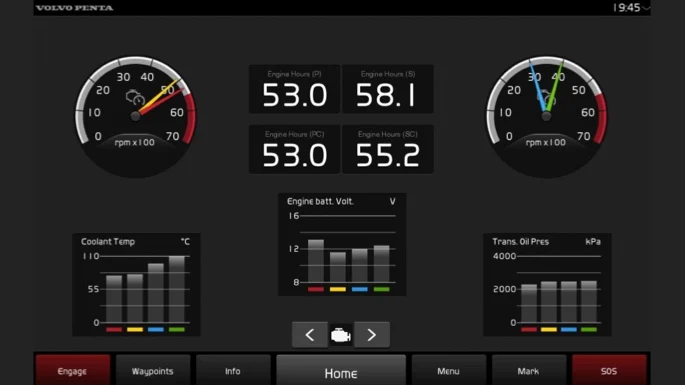 GET A CLEAR, FOCUSED VIEW
The Volvo Penta glass cockpit system seamlessly integrates all essential engine and boat data via a single interface with the Garmin glass displays. So you get all the information you need in one place.